GLO-X Glow-in-the-Dark Round Markers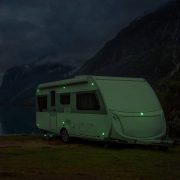 Made from Polypropylene with a word first "Inert Pigment".
Perfect for illuminating a range of items, the world's most powerful Glow Round Markers from GLO-X are designed to keep you safe at night time. Ideal for many uses, these bright green glow round markers can help prevent you from tripping over and causing injuries to yourself, or your loved ones at night.
Your imagination only limits the use of these GLO-X glow round markers. You can use them as tent rope indicators, caravan or trailer markers and steps highlighters when you're camping. You can also use them around your house, along dark driveways or paths, so you don't trip at night, on fence posts or bollards, so you don't hit them with cars, above garage light switches that are always hard to find when it's pitch black and even on your porch for those times you forget to leave the front light on.
You can also use them on doors, helping your night blind animals to find their way back at night.
* The world's most powerful glow round markers from GLO-X come in a pack of 2.
* The brilliant glow from the glow round markers are perfect for highlighting all those hazards that strike at night.
* Kids love everything that glows in the dark, so they're sure to find multiple uses that you haven't thought of yet.
* During the day, leave your glow round markers in natural or powered light to charge and they'll glow for 12+ hours.
* These glow round markers can be recharged unlimited times, so you'll use them for years to come.
* Their overall diameter is 60mm with a 4mm screw hole.

Australian Made
Invented in QLD, Aussie Owned

Delivery: Next Day Despatch
Flat Rate: $9.50 Aus wide
Order over $60: Free Shipping