GLO-X Glow-in-the-Dark, Straight Markers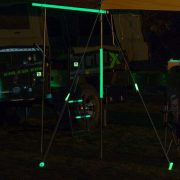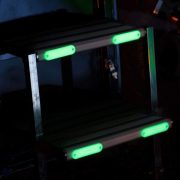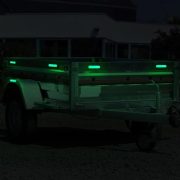 Made from Polypropylene with a word first "Inert Pigment".
If you're looking for ways to make your camping trips safer, then you need to check out these GLO-X Glow Straight Markers. When you're camping in tents or holidaying in a caravan, you'd know how dark it can be at night. You run the risk of tripping over tent ropes and stumbling around darkened caravans when you're trying to make that midnight run to the bathroom.
The world's most powerful glow straight markers from GLO-X help you discover, and conquer, all those hazards that pop up in total darkness. Emitting a brilliant green glow, the glow straight markers are ideal for use on tent ropes and highlighting steps and doorways, so you don't wake up everyone collapsing tents or falling on the steps. They are also great for illuminating trailers at night time, highlighting those shin shattering towbars and waist-high corners that always seem to strike when you can't see where your trailer starts and ends at night.
The world's most powerful glow straight markers from GLO-X come in a pack of 2
* The brilliant glow from the glow straight markers are perfect for highlighting tent ropes, steps, doorways and much more, making camping safer and more fun.
* Kids love the glow straight markers (as they love everything that glows in the dark!) and it'll make them feel more secure in finding their way to their tent at night.
* During the day, leave your glow straight markers in natural or powered light to charge and they'll glow for 12+ hours.
* These glow straight markers will change your camping experience, and the beauty of them is, they can be recharged unlimited times, so you'll use them for years to come.
* Their dimensions measure 100mm x 25mm with 4 screw holes.

Australian Made
Invented in QLD, Aussie Owned

Delivery: Next Day Despatch
Flat Rate: $9.50 Aus wide
Order over $60: Free Shipping