Nylon Flexible RV and Caravan Awning Hooks

* 10 in a pack.
* Order 2 Packs, get the second at 1/2 Price. Save $12.50
Awning Hooks provide extra hanging space under your awning.
The hooks slide easily into the sail track groove of most caravan/RV awnings.
Can be used to hang:
* coat hangers
* torches
* strip lighting

Australian Made
Invented in Brisbane, Made in Brisbane
We Pay For Shipping
Free delivery costs Australia WIde

Delivery: Next Day Despatch
Your order is sent next days post

All About the Awning Hooks
As we get around the countryside, we see the caravan awning being used for more and more things other than an awning that is!
There are not many caravans that don't have something hanging from them.
That's where this product is ideal.  It is from the makers of the Rain Saver Gutter and is a simple little gadget that allows your awning to be utilized for a multitude of things.
The awning hook – 2 Holes & 2 Hanging Lugs
They are small awning hooks that slide into the track of your caravan awning.  Each hook is designed with two holes, a small and a large, as well as two hanging lugs.
They allow you to use it to hang a full range of items inducing
Small bags
Caps
Torches
Coat Hangers
Towels
Each hook is made from nylon material and being flexible means they will now blow around on the track once you have something hanging on them.
Use them to hang a full range of things
Watch the video to see how easy they are to install and how to use them.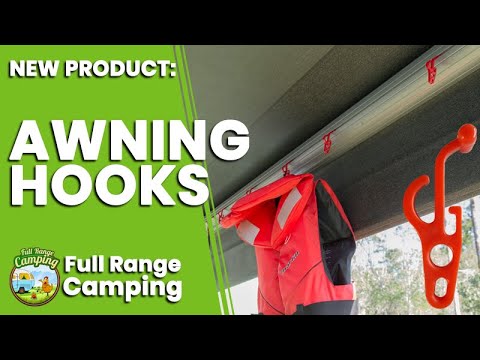 What we thought of them
We love them, they were so easy to put on the awning and great to hang things like the torch on, we never used to be able to find it but now have a regular spot for it.  What we liked is the fact that even with our shade screen up, there are small enough to use either end of it.  They were also good as to put a plastic bag on that acts as a rubbish bin.