Available in 2 sizes: Medium, Large
The Pack Includes:
1. Stainless Steel Grill Cradle
2. Stainless Steel Grill
3. Stainless Steel Fire Pit
4. Cast Iron Grid
5. Stainless Steel Base Plate
6. Canvas Carry Bag

Delivery: Next Day Despatch
Flat Rate $30 Aus Wide
The Quokka Folding Fire Pit & BBQ has been one of the most popular items in the FRC Online Store for quite a while, and now this little beauty has been improved with some great new features making it even better.
Fires and Camping just go together. There are very few campers that don't enjoy sitting by the fire at night and sharing a story or two under the stars, or sitting around the caravan at happy hour and having a few quiet ones.
Campfires Under The Stars & Happy Hour around the Fire
Then, there is outdoor cooking. Nothing beats being able to enjoy a damper that has been cooked on an open fire.
Camp Oven Damper
The problem is that there are more and more restrictions being placed on where we can and cannot have fires. In many cases, the fire must be contained and off the ground. Some of the fire pits provided at campground can be restrictive.   Some have limitations, whereby you might be able to use them as a fire pit, but not as a BBQ, or the other way round, where you can cook on them, but then not sit around the fire.
Good to cook on but not to sit around
We like the Quokka however as it is really a two in one solution. It is a fire pit and cooking appliance all in one.
The Quokka is set up as a folding fire pit, so it allows you to get your fire up off the ground, making it safe and permissible to use in a lot more locations.  Then, by simply adding on the adjustable stainless steel grill, it easily converts to a BBQ where you can boil the billy or cook up your dinner.
From a firepit it converts to a BBQ
The best part about the whole thing is that it can easily fold away to nothing, making it ideal to carry in the caravan or car when you are off camping.
Folds away easily 
Improvements
The Quokka has recently undergone some improvements making it stronger and more durable.
The old black steel base of the Quokka has now been replaced with a solid stainless steel base adding to the longevity of the product.
New Stainless Steel Base Plate
The old spot welded panels are now rolled formed, which makes them even more stronger and durable.
Roll Formed Panels
The old steel fire grid is now replaced with a cast iron Grid
Iron Fire Grid
And there is a brand new stylish black canvas carry case to keep it all packed away nicely for when you travel.
Strong Canvas Carry Case
What we thought
The Quokka is very easy to put together, even without instructions.  It is an all in one unit, and the folding pieces just form themselves.  We liked the way that the legs clipped into the base which gave it stability.  The top grill fits on easily and we really liked the fact it had adjustable pegs on it.  There are three adjustments levels so you can alter the height of the grill to adjust how close it was to the heat or flames of the fire.
The two handles on the side came in really handy for when we wanted to move it around, especially while it was still hot, but the OzWit Gloves are ideal for this and save you getting burnt.   We were able to use it to cook on a frying pan, boil the kettle, but could also use our tripod on it for the camp oven.
The only slight drawback we found is that you obviously have to plan ahead and wait for it to cool down before you can pack it away, but apart from that we loved it.
You can watch the video below to see how easy it was to set up and how we used it to cook on.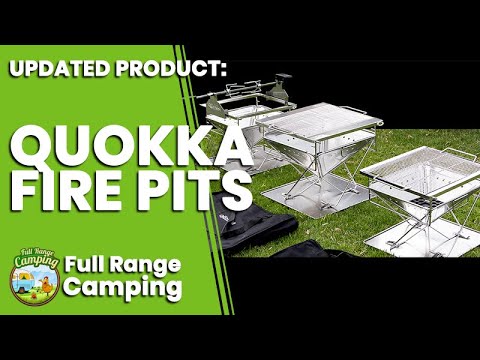 Specs & What you get
The Quokka II is a six piece pack comprising of the following;
1. Stainless Steel Grill Cradle
2. Stainless Steel Grill
3. Stainless Steel Fire Pit
4. Cast Iron Grid
5. Stainless Steel Base Plate
6. Canvas Carry Bag
There are two different sizes, Medium & Large with all dimensions shown in the diagrams below.
Whats in the Kit & Dimensions
The Quokka is made from 201 stainless steel (industrial grade) and the cooking grill is made from 304 stainless steel (food grade). The base plate and internal fire grid is mild steel. The legs of the fire pit are anchored by clips on the base plate to ensure sturdiness and portability.