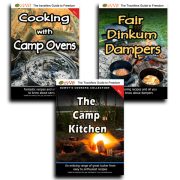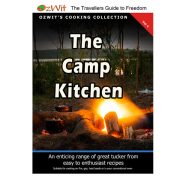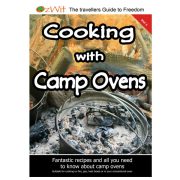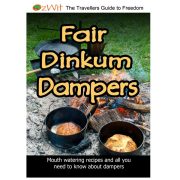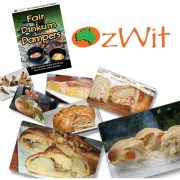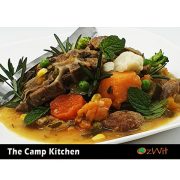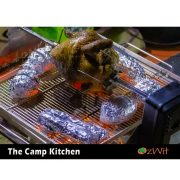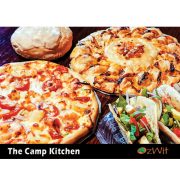 Introducing a fantastic OzWit Tri-Pack cook book set! This pack consists of three great camp cook books that will tantalise the tastebuds and show off your cooking prowess!
The Camp Kitchen
The Camp Kitchen has just hit our online store. This book was developed after many years of conversing with the camping community at shows and events around Australia. With over seventy mouth-watering recipes, this book is jammed packed with starters, entree's, mains, desserts, breads, salads, gluten free and vegetarian options. With camp oven cooking guides, grilling, frying, stewing, baking and even some salads it's the complete camp cooking book. You asked, and we've delivered!
Cooking with Camp Ovens
Our ever popular Cooking With Camp Oven book, with over 6,000 copies sold Australia wide, is the second book in this great pack. Now on its second print run, it has the tried and true OzWit favourites, and you don't need to be a chef to get great results. It will guide the user to start cooking with a camp oven, how to season your camp oven, and how to use a camp oven in all types of conditions. A practical book that provides the reader with the secrets to successfully pulling off great dishes, techniques and practical camp oven hints. This book has over 50 recipes that will please all taste buds and is great for a first timer through to the experienced camp oven cook.
Fair Dinkum Dampers
Fair Dinkum Dampers is the last book in the Tri-Pack. A damper is a 'damper', so we're told. We beg to differ! We have dampers for starters, dampers for breakfast, dampers for mains and dampers for desserts. We stuff 'em, roll 'em, knead 'em, and eat 'em. There's even a sweet treats section at the back that will sure please the kids and keep them busy around the camp fire. The Fair Dinkum Dampers was the first book of its time and is sure to embrace the reader's world, their loves and passions around a shared interest in outdoor cooking. Campers love this book! Who has the best damper around your campfire?

Delivery: Next Day Despatch
$7.95 Flat Rate Australia Wide