Rain Saver Gutter Kit + Bonus Value Pack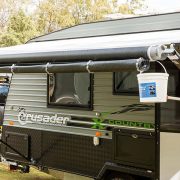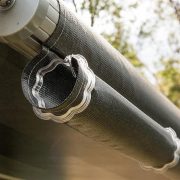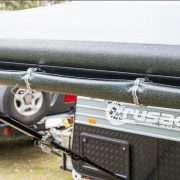 FREE SHIPPING AUS WIDE – The Original Rain Saver Gutter Kit just got better with the introduction of their brand new Leaf Guard.  Now you can collect your water and keep it clean.  Leaf Guard helps prevent leaves entering your bucket as you are collecting water.  Simply place in the top of your bucket to enjoy a cleaner water supply.
Kits comes in three sizes to suit all vans:
* Option 1 – 10 Clips (18ft van) $82.50
* Option 2 – 14 Clips (24ft van) $94.50
* Option 3 – 18 Clips (Big Rig) $107.50
Each kit is fully supplied with;-
* Bucket with pre-stamped hole and lid
* Bucket fitting with O ring
* Snap on hose connector
* Bungee Balls
* Installation instructions
PLUS FULLRANGE CAMPING BONUS PACK
Consisting of:
* 2 x Extra Clips
* 1 x Leaf Guard Filter (NEW ITEM)
Total Extra Value $26.00

Australian Made
Invented in Brisbane, Made in Brisbane

Delivery: We Pay For Shipping
Save $15.70 on freight costs
Free Shipping

The Rain Saver Gutter is one of those products that was borne from necessity!
Have you ever sat under your awning watching the rain fall and pool around your flooring and wished there was a way you could catch all that water and store it in your tanks?
Michael, who is the inventor of the Rain Saver Gutter did exactly that when he was camping at Bruney Island Passage.  Not wanting to relocate just to get water, and sick of filling jerry cans and caring them back and forth, he thought long and hard about it all and came up with a novel idea on how to convert an existing awning, into a gutter that can collect rain water just as efficiently as any household guttering system.
We met Michael at the Brisbane Caravan and Camping show and saw his product in action.  He showed us how quick and easy it was to install, and gave a demonstration of how it collects rain water.
The video below shows how it all works.