ClipCroc® Bowl Set (pack of 4). 'Clip-together' Crockery

All ClipCroc products came in packs of x4 all clipped together and all the same colour.
ClipCroc comes in 4 amazing colours so you can really liven up your mealtime experience!
Choose from Blue, White or Pink
Flat Rate: $10 for all Clip Croc orders
Free Shipping on all Clipcroc orders over $75
12 Month Warranty
Quality & Manufacturer Defects

Delivery: Next Day Despatch
$10 Flat Rate Australia Wide
Free Shipping on all Clipcroc product orders over $75

What is ClipCroc®
You may be wondering? ClipCroc® is a world first clip together crockery range, proudly designed and made right here in Australia.
Each piece clips together perfectly
We have been full time campers for the last 6 years and are always on the lookout for gear that makes camping easier, and this is one product that does!  ClipCroc® is a range of bowls, plates, dishes and cups that as the name suggests Clips together to ensure rattle free crockery, ideal for campers and caravanners.
The ClipCroc® Range
There is a full range of Plates, Dishes, Bowls and even Cups to cover everything you will need for either the caravan, motorhome or camping.  Each pack consists of four pieces, and there are great selection of colours, including Black, Blue, White & Pink.  Each piece of the range is a generous size and easily clips together for storage and carting.
Plates & Dishes
Bowls & Cups
ClipCroc® has the added advantage of being a completely stackable system whether they are clean or dirty and their design ensures they are not too hot to handle while using them.  Apart from being sleek and good looking, ClipCroc® have a host of additional features and benefits as highlighted below.
Quiet
With their uniquely patented design the whole range of ClipCroc® products clip together so you can stack them in your caravan or backpack and the whole set it rattle free. This method of storage also means they take up less room, which is imperative to most carvanners and campers who have limited space.
Clip together for no noise
Cleaning
We all hate washing up right? With traditional plates, you more or less have to wash them up straight after you eat. But, if you are out enjoying a sunset, or on a bit of a trek, washing the dishes is the last thing you want to do. With ClipCroc® you can do this later.  ClipCroc® allow you to do this with the ability to stack dirty plates and dishes, hence containing the mess so you can get them home, enjoy the moment, and do the dishes later.
Stack dirty dishes and clean later
Keep it Cool
ClipCroc® have been brilliantly designed to allow you to double up any piece in the range by placing one into the other, thus creating prefect insulation and ensuring they are never too hot to handle. This prevents heat transfer to your hands or lap, meaning your food remains warmer longer and you don't get burnt from hot food.
Keeps food hotter and laps cooler
Stackable
Everything in the entire ClipCroc range comes in a set of 4 and stacks into each other. This makes it ideal for caravans, campervans and motorhomes as it saves them rattling around as you drive to your next camp spot.
Easy to stack in Caravans & Motorhomes
Food Grade
ClipCroc® have ensured they have used FDA approved, BPA Free food grade Polypropylene in their production. This makes them one of the highest quality and safety crockery range on the market and ensures they are dishwasher and freezer safe. You can also use them in the microwave for short periods of time. (1-2 min reheat only)
Food Grade materials making it safe to eat off
Lightweight
With the whole range clipping together, and made from low density, hard wearing polypropylene, it ensures the weight is kept to a minimum which is another great advantage to caravanners or campers ready for a hike.
Easy and light to carry
See how ClipCroc® works
Watch the video below to see the ClipCroc® team and how handy the whole range is for Caravan & Camping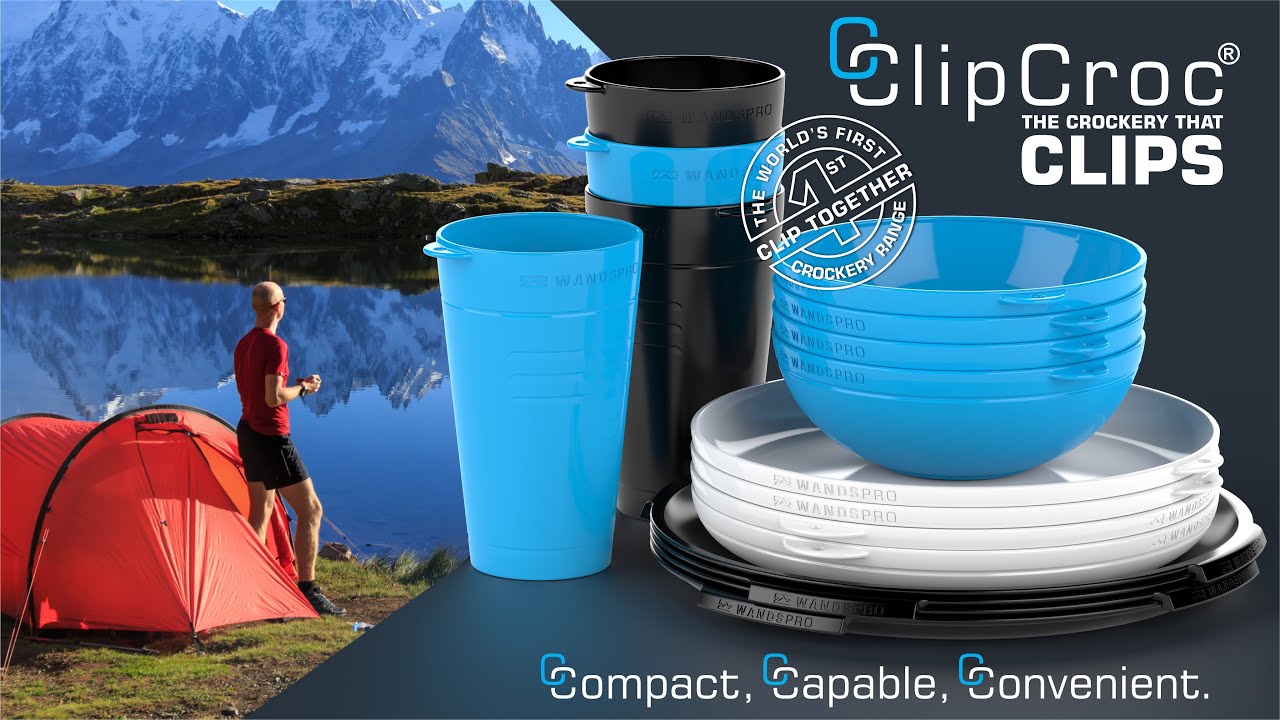 Why the ClipCroc®?
We first met the ClipCroc® crew a few years ago when we were together at the Innovation Center on the Sunshine Coast. At this stage, the crockery range was just an idea.  Outdoor enthusiast Lindsey explains,
RIch, (her fiancé) and I had been on a 7-day car-camping trip across Australia. The frustration of hearing rattling plates in the boot of the car, and the difficulty of washing up dirty plates when facilities weren't available got us to boiling point!
So, Lindsey, together with Rich and his identical twin brother Chris decided to solve the problem and create the world's first clip-together tableware range. The trio are fellow campers and outdoor enthusiasts, so we had an instant connection.
Rich, Lindsey & Chris
They explained their desire to create a range of products that would meet and exceed all expectations. They picked our brains a little, but we take no credit, apart from telling them we also hate rattling dishes, the credit belongs to them with their 5 year journey, during which they have designed, tested and manufactured their unique product range right here at Brisbane in Australia.
Proudly Made in Brisbane, Australia
What we thought?
Just before Christmas last year, Chris sent us a full set of ClipCroc® Plates, Dishes and Bowls to try out, so we have been using them for a few months now. We are happy to say they all lived up to expectations. They do everything they claim they do.  After only a few uses, we ditched our traditional plastic plates. As you can see in the image below, we found the ClipCroc® range to take up far less room, and as expected, there was no rattling. This was a great bonus for us, as we have a motorhome, not a caravan, so we basically travel whilst sitting in our kitchen.
Our traditional crockery  -vs- the ClipCroc® Range
We found them great especially at lunch time, usually when we travel we tend to pull over for lunch, have a quick bite to eat, and leave the dirty dishes in the sink to wash later so we can get back on our way. In the past, when we did this, the dishes and plates would rattle for the remainder of the trip, annoying the absolute **** out of me. However, the ClipCroc® range fixed this problem. It was a real novelty for the kids to clip them back together as they would rather do that than wash the dishes, so they sat in the sink, (the dishes, not the kids) and were rattle free for the rest of the trip.
No noise when travelling with the dishes in the sink for a quick getaway
We also found they were great to put in the backpack and take them on our sunset hikes, along with our dream pot to various lookouts. Easy to carry there, and as suggested, clip back together to reduce mess and then we could wash them when we got back to the motorhome.
Perhaps the only drawback was the fact that if you need to un-clip them quickly, you need two hands. They are easy enough to un-clip, a little stiff for the first few uses, but then free up. However, we quickly realised you don't have to clip them together each and every time. When we are staying put for a while we just stack them like regular plates.
12 Month Warranty
The ClipCroc® range comes under their company name WandsPro® and the team stand right behind their products offering a full 12-month manufacturers' warranty on all products. All products are hand inspected, packaged and dispatched by the ClipCroc® Crew ensuring 100% satisfaction!