Tips, Tricks and What to Know in Finding Free Camps
Camping in Australia has become a national pastime. With its wide-open spaces and vast interior, finding the hidden gems of free camps can be challenging to locate. Couple that, because each state in Australia has different rules and regulations for camping, it can be confusing what you can and can't do at free campgrounds. Free campgrounds can be found in State and National Parks and even some hotels and communities offer free camping.
Free Campgrounds are Highly Sought After
There are full-timers, part-timers, holidaymakers, and weekend warriors at any one time on the road, all vying to gain access to free camps. A lot of free campgrounds have time limitations on them as well. Some are dedicated campgrounds that might allow you to stay up to 72 hours. Most states in Australia have roadside locations called Rest Areas.
These areas are designated to allow travellers the ability to park in them for up to 24 hours. While not technically a free campground, many campers, RVers, and caravanners utilise these facilities for overnight stops to break up long trips.
These areas are also often utilised by truck drivers, who rely on these locations to rest and recover in between long hauls. If you are going to use these locations as overnight camp stays in your travels, be mindful of the intended purpose of the sites. Truckies rely on utilising the facilities of the rest areas for their profession and can often be annoyed in finding a rest area full of vans and RVs with no room to park their truck.
Rest Areas should not be used for tents or camper trailers.
What facilities can you expect: Some rest areas are located alongside parks in small towns that have toilets, water, shelters etc.  Some Rest Areas can be simply a parking bay off the side of a main road or highway, with no facilities.  If you are looking to use a Rest Area as an overnight stopover, plan ahead to find out which ones have any of the basic necessities you might need for that stop over.
Some Outback Hotels Offer Free Campgrounds
There are many regional and outback hotels will offer their grounds for free camping in return for some patronage. Again, these locations are meant to be used for no longer than 72 hours but can be a fantastic cost saver if you are looking to stretch your accommodation dollar a little further.
A favourite amongst full-time travellers, as the publicans and staff of the pubs, roll out the red carpet to visitors. Regular and full-time travellers can often be the lifeblood of outback towns, so offering free camping at the local pub contributes significantly to injecting income into the local economy.
What facilities can you expect: Depending on the individual hotel, they often will have showers and toilets available to use. Often the location is at the rear or on land beside the hotel. Many hotels require campers to be fully self-contained (like caravans or RVs with showers, toilets, water, and power), but inquiries before arrival will determine their limitations.
Regional Towns & Council Free Camps
Many regional towns also provide free camping locations that are managed and maintained by the local council. Because these locations are typically on public land, often they will be unfenced and more isolated than council-managed caravan parks. Because of the isolation associated with free camping, councils encourage campers to follow a code of ethics, and a 'leave no trace' policy is highly encouraged.
Ideally, you should arrive at your chosen location well before dusk if possible (to avoid disturbing other visitors or locals). Like rest areas and national parks, council free camp locations adhere to strict time limits as to the duration of how long you can stay at one place.
What facilities can you expect: These vary greatly depending on the location. Some are beautiful parks, with showers, toilets, bbq areas, boat ramps, and the like. Some free camp locations can simply be a gravel pit on the outskirts of town, in which case, you probably wouldn't want to go there with just a tent. Some research and pre-planning on what facilities are at council campgrounds are highly encouraged.
Australian State Forest & National Park Free Campgrounds
State Forests are areas of Crown Land generally larger than 2000 hectares, designated for sustainable forest production. Each Australian state manages its forests and is overseen regularly by its Rangers.
All state forests have road access, and some have camping facilities within or near their boundaries. The National Parks are areas of land also dedicated to conservation and offer recreational and camping opportunities. Some activities require permits, fees & bookings, but some states will have some free camping locations available to use.
What facilities can you expect: Most of these locations are managed by local Rangers. These locations often have fantastic recreational facilities, with modern toilet blocks, to drop toilets. Some have bbq facilities, but more often than not, fire pits are used for open campfires. Be prepared to rough it a bit at these locations. They usually will have water, either from rain tanks or town water, but be ready to have your own on hand.
Visitor Information Centres & Visitor Information Outlets
These locations are an absolute gold mine. You will find many regional areas throughout Australia with these fantastic information offices. The staff will be well-versed in the availability of any free campgrounds in the region they are responsible for. They will be happy to assist you in providing directions, any rules and regulations you must be aware of when using the facilities at the free camps. These are an incredible free resource and should be used as often as you have the chance to.
Visitor Centres are typically open longer hours, 7 days a week and often have internet access available for a small fee if required to conduct additional research for your travels.
Hefty Fines for Camping in Prohibited Locations
Local Laws officers of local councils will not think twice to fine you if you are found illegally camping in locations that prohibit camping. People often mistakingly believe that overnight or extended stays at parks and recreational areas are permitted, but this will often not be the case.
If camping of any nature is permitted, there will be signs that clearly state any rules and regulations that govern the use of such land. Again, it is best to be forwarned with accurate information from government bodies or information centres.
How To Find Free Camping Sites
Over the last 7 years, Full Range Camping (formerly known as Free Range Camping) has collated over 11,000 locations and we have placed them in a free, searchable online, web-based directory and a free, downloadable IOS and Android App.  To access all the information in the web directory and app, you simply need to create a free account to login and access the search function and use the filters.
Along with Free Campgrounds, we have included other categories like Showgrounds, Pubs, Private Campgrounds, Rest Areas, Caravan Parks, House Sitting, Help Outs and Camping related businesses.
However, the rest of this article will focus on Free Camping guides and how-tos related to finding Free Camps, rules and best practice using the Full Range Camping Web Directory and Free IOS and Android App.  We will include some videos showing you how to use the website and app to find over 3000 free camping locations all over Australia.
Step 1: Register for a Free Account
Step 2: Confirm your email address
Step 3: Go to the search page (in the web directory) or login to the Free Online Maps in IOS or Android App
Step 4: Select the Free Camps category in the web directory or the IOS or Android App
Using Filters by States to Find Free Campgrounds
The free web directory has a search function whereby you can filter to find Free Campgrounds in Queensland, New South Wales, ACT, Victoria, Tasmania, South Australia, Western Australia or the Northern Territory.
This is extremely handy when you are just looking for those locations just for one state, instead of showing them for the whole of Australia.  Not only can you filter by state, but there are also 43 feature filters to refine your searches into locations that do or don't have a feature you are looking for.
Using Filters to find Free Campgrounds Near Me
The free web directory and the free ios and android app have the ability to display free campgrounds right at the location you are at.  The web directory allows you to filter by typing in town names, or locations like Grampians, Uluru, Otways etc.  The auto-suggest function in the web directory and app will then provide you with options based on your input, and you can then select your location.
The web directory then has the ability to choose a radius to search around the location you have chosen.  Choose from 20klm to 500klm.  If you don't choose a radius, it will default to 50klm.
The IOS and Android App has no radius feature.  However, you can still search in the search field and auto-suggest will drop down suggestions.  Results are instantaneous.  You then simply pinch the screen to zoom out.  The map marker icons will auto-populate the more you zoom out.  You simply drag around the screen to see more map markers populate as you move around.
Using Filters to find Features at Free Campgrounds
The free web directory and the free ios and android app have the ability to refine your search by choosing from 43 features like toilets available, water filling, disabled facilities, showers but to name a few.  Once you have selected either your state or specific location, if you want to filter further for specific features, you hit the features drop down in the web directory and places checks beside the features you want in your search results.
The IOS and Android App has a filter icon in the top right where you can set filters and clear filters.  Once you tap select filters, you tap on the Free Camp Icon, then mark the features you wish to filter by, then tap on See Filtered Sites.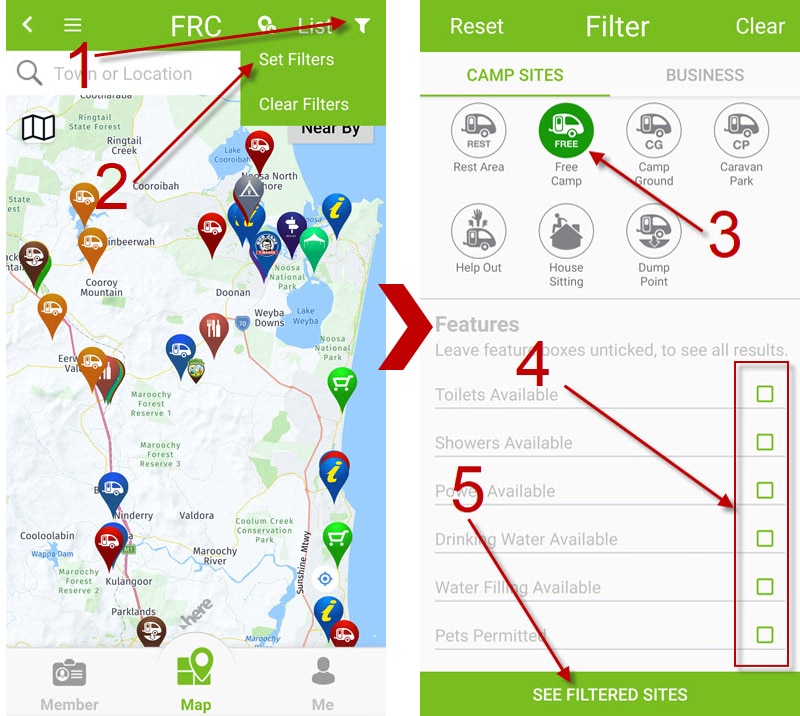 Free Campground Time Limits
As these campgrounds are extremely popular, many of the locations have time limits in which travellers can stay.  Often, there will be 24hour – 48hour time limits.  This is to combat excessive abuse in staying at the locations and provides everyone with the opportunity to utilise the free camp locations.  There can be other stipulations along with time restrictions as well.  These may include:
* No Pets or animals
* No Fires (especially during the dry season)
* Utilise on-site toilets (if available)
* Generators may not be permitted
* Vehicle permits may be required
Most of the time, these rules will be displayed on clear signage on the entry prior to entry.  The filter options inside the web directory and app will allow you to refine your searches.
Rest Areas as Free Camps
Situated across thousands of locations across Australia and Rest Areas.  These designated areas located on the side of the road, set aside for the specific purpose for people to pull over and have a break from driving.  These Rest Areas often will have amenities like toilets, covered areas, refuse (bins).  There are many Rest Areas that will offer a 24hr to 48hr rest period.  These are especially valuable for the truckies that work long routes and hours.  However, there are many RV and Caravan Travellers that will also utilise those locations for overnight stops as well.
Common Sense and ettiquite rule the day here.  There are reports of these locations being abused by free campers.  They should be used sparingly and consideration given to long haul truckies.
Free Camping in Tents
Many Free Camping areas can be sparsely populated with facilities and may not be suitable for Tent Camping. Bush camping is extremely popular with the tent campers. Getting away to remote locations, camping amongst the trees and animals has become a favourite pastime for many Australians.
There are locations where tent camping is allowed, but again, check the location for any stipulations on camping in tents. Due to limited facilities, caravans and RVs that are fully self-contained with their own toilets, showers, cooking facilities along with camper trailers might be the only permissible accommodation options.
The filter option inside the web directory and app will allow you to filter for locations that allow tent camping.
Free Camping with Pets
Camping with pets is extremely popular with campers.  A lot of full-time travellers, especially retirees and grey nomads travel with their pets.  However, a lot of state national parks do not allow pets in an effort to protect the natural wildlife.  You can use the filter in the web directory and app to find free campgrounds where pets are permitted.
As seen in the previous images, it is a matter of simply checking or tapping the feature Pets Permitted in the features filter for the both the web directory and the app.
Other Free Camping Locations
A previously mentioned, many Free Campgrounds are provided and maintained by state governments.  However, there are many local councils providing free camping locations and facilities.  This is a growing trend in Australia and will only to continue to see more locations being provided.  The local governments are aware that the commuters at these locations stop, and spend in the local economy, replenishing fuel, groceries and availing themselves of the locations businesses like chemists, doctors, entertainment and tourist attractions.
Often, you will find pubs, primarily in outback towns that will offer free camping for caravans and RVs beside or at the rear of the premises.  They offer free camping in return for the purchase of a meal inside the pub.  These are extremely popular with full and part-time travellers.  It allows a free overnight stay location but also injects money into the local economy.
How to Find Free Camprounds – How to Video
We have created a video using the Free Web directory on how to use the search function and filters in the web directory.  This will show you how quickly and easy it is to find free campgrounds, paid campgrounds, pubs, showgrounds, caravan parks and other locations.
Register for Free
Using the web directory and free online maps in the Full Range Camping app is free to use.  You simply need to register to become a member.  Then finding free campgrounds is as simple as clicking a couple of boxes.  Click on the button below to register your free account.