When we are camping, or on the road, there is one item that we need to have a decent night's sleep…and that is our pillow. As campers and travellers, space is of a premium, and packing space has always a limit.
Pillows are one of those items that can take up some of that precious space. Plus, one of the other issues, is making sure that it doesn't get unnecessarily dirty during travel. Worry no more.
Introducing The Sleepkeeper
The Sleepkeeper is one of those items that has solved our pillow space problems.
The Sleep Keeper is the brainchild of Diane Tipper. With a background in sewing and fabrics, she identified the problem that exists with travellers wanting to take their pillow with them on their travels, but were limited to space and needed hygiene for their pillow.
The Sleep Keeper is made from 100% nylon. It is lightweight and durable. Not only that, they are water-resistant to help keep your pillow dry. Not only that, the Sleep Keeper will fit any pillow(except king pillows), including latex and memory foam. It has 2 stitched in velcro straps, that allows you to fold and compress the pillow, so that it is compact and minimise space. The nylon material allows it to remain dry.
Sleepkeeper Colours
The Sleep Keeper comes in 4 colours, black, Jade, Purple and Navy.
Checkout the Sleepkeeper Video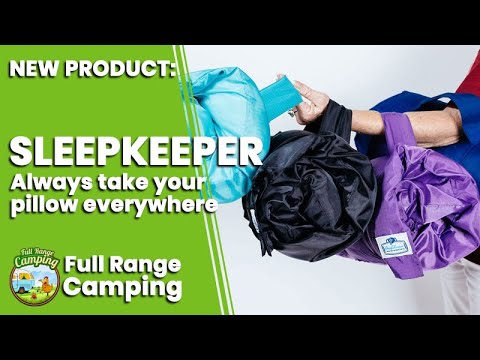 Sleepkeeper in the FRC Shop
We are offering Sleep Keeper exclusively to our Full Range Camping members with free shipping, Australia wide.
Leave a Comment