Topargee 1.4m & 3m Extension Lead

1.4 or 3 metre extension lead to suit both models of Topargee water gauges.  Simply plugs in to existing leads to extend the length, no need for soldering or hard wiring.
Freight: Flat Rate $5 Australia Wide

Delivery: Next Day Despatch
$10 Flat Rate Australia Wide

New Bluetooth Model & App Available
Our favorite Water Gauge just got better with the introduction of the Bluetooth model, allowing you to see at a glace just how much water is left in your tank.
Many campers will know how precious water is when out camping, especially when free camping or in some of the more remote areas of Australia.  Knowing how much water you have on board can be critical, and it also allows you to plan your trip better and know how long you can stay in one location.
Having an accurate water gauge can greatly assist with this.  Yes, you can wait till you are empty and use that as a guide, but that could also get you into trouble.
The Topargee Water Tank Gauge has two amazing features
1. It measures water flow accurately and will tell you to the litre, how much water you have left in your tanks.  The new Bluetooth model now connects to your smartphone via an App and has the ability to show the amount of litres remaining and express it as a percentage.
Available as Digital read out models or  new Bluetooth App Display
2. You don't need to drill into or fit it to the tank.

Sender unit fitted after Water Pump – Not to tank
Most standard gauges work on approximate levels, full, med low, which does not give you a true indication of how much water you have on board.

Current water gauges only give a rough indication
The Topargee Water Tank Gauge fits into your existing pipe work and accurately measures the water flow.  It is that easy.
The added benefits is that you can start to work out your daily water consumption, and plan your trips better.  The original models (left image) show readings on an LED Display whilst the new Bluetooth Model (Right image) can be read via an App on your smartphone.

Measure your remaining water to the litre
You can measure how much water you are using per shower, or how much to do the dishes.
As the unit is not fitted to the tanks you can use it for any size capacity tanks that you have.
How it works
The unit is installed after the water pump and measures the flow once it goes through.  Once fitted you just enter in the total capacity of your tanks and the device will do the rest for you.  If you don't know how much your tanks hold the device will go into negative territory and work it out for you.
See it working here
Fitting & Dimensions

LED Display Models
Because there is no drilling involved, the unit is easily retro fitted to just about any set up.  There are two models.
The Surface Mount model that has its own internal AA batteries which makes wiring very easy.  (Dimensions shown in diagram below.)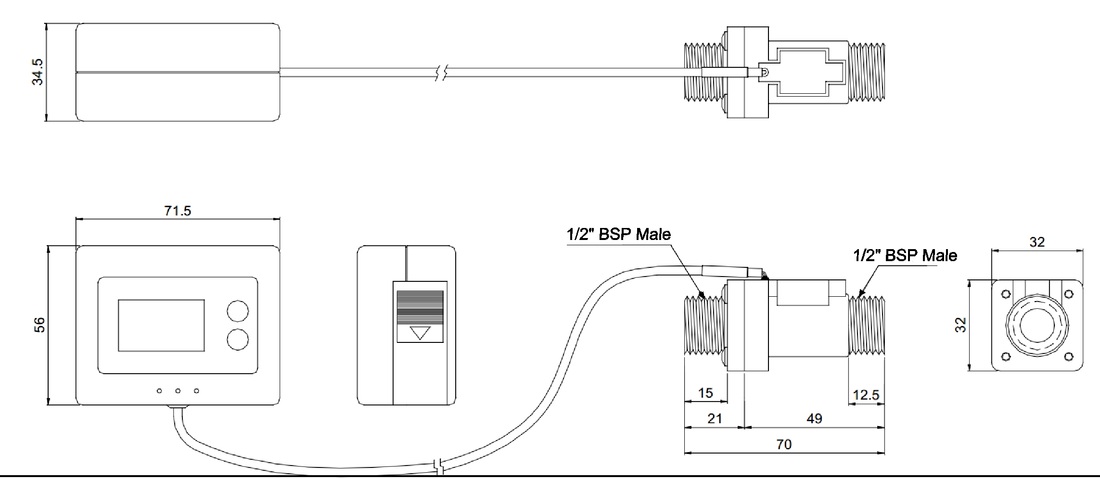 The Flush Mount model that is connected to the existing 12 volt system. (Dimensions shown in diagram below.)
NOTE:  Cut out approximately 55mm x 70mm (May vary depending on thickness of backing board)
NOTE:  It is recommended to place the units at eye level to read the display easier. (See diagram)
Bluetooth App Model
The New Bluetooth Model of the gauge works exactly the same as the other models, however, instead of a LED Display at the front of the receiver unit, the readings are all presented on your smartphone via the e Flow App.   The unit can be installed using 2 x AA Batteries, or a 12 volt adapter can be purchased separately so that you have the option to hard wire the unit your existing 12 volt system.
Once installed, it is simply a matter of downloading the eFlow App from either the Apple or Google Play stores.  The App will then scan for all available eFlow meters within range.  If you have more that one fitted, choose the one you want to read and the app will to to the main page and display the following
The Tank Name
Battery Status (If using AA Batteries)
Menu Setting
Litres Remaining
% Remaining
Nominated Tank Size
The App display from the Bluetooth Model
The Bluetooth Model still requires a header unit, however this unit does not have a digital display.  Please see diagram below for the differences.
The eFlow Header Unit (Left) – Surface LED Display Unit (Right)
Extra Leads
All units comes with a lead reach of 1.4m, but there is also a 1.4m or 3m extension lead available if required, and you can join as many of these together as you need to.
They video below shows how easy they are to fit.  We just fitted one to our motorhome.  We chose the surface mount model due to restricted wiring access.  The unit was easy to fit and we had it done in under an hour.
12 Volt Adapter
The new Bluetooth Model of the gauge now has provision to convert it from a battery powered unit which takes 2 x AA batteries into an hardwired unit that can be fitted to your existing 12 volt system.  The adapter may be purchased separately and the fittings allow for it be be easily fitted to the existing unit.
Unit Install
The video below shows how easy it is to install one of the units.
Video of installation and the unit working
What we think
A brilliant device.  Gone is the guess work.
INSTALL
The install was relatively easy.  I gauged this by the amount of times I swore, which in this case was only once as my head made contact with the chassis as my pump was located under the motorhome, but in most cases pumps will be within the motorhome and easier to access.  It was really a matter of just running cables, then clicking them in place.  There were a couple of screw-on fittings to the sender unit, and then the pipes just pushed into the existing John Guest fittings which are standard on most caravans or motorhomes.  The batteries came with the unit, so it powered up and worked accurately first time.
THE UNIT
Being a large bus we are fortunate enough to carry a larger capacity of water than most.   But it is still critical for us to know how much water we have and how long we can stay in one location.  The Topargee gauge allowed us to do this.  After setting our gauge up, we were able to watch the water flow, and flow it did, as I watched 35 litres disappear in a 5 minute shower.  But, my wife assures me this was just for testing purposes.
The biggest advantage is that we have been able to work out how much we use per load when we do the dishes, or use the washing machine, so it really helps to manage our usage.  Now, instead of getting the red warning light, we know almost to the litre how much we are carrying.
BLUETOOTH MODEL & APP
The new model has the advantage of being able to see the display on demand and a lot clearer.  It has more information available than the LED display, including converting the tank capacity into a percentage.  Another advantage is that it maintains a list of records, which allows you to show a history of your water usage.  Each time you top up your tanks and refresh the screen a record of date, time and quantity remaining will be recorded.  From this you can estimate daily usage which is very helpful for planning trips and knowing how long you can stay in a location.  This can mean not carting along extra water if you don't need to.
Advantages