Tie Down Kit Pro Pack-Gen 2-Ground Dog Anchors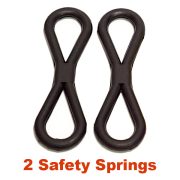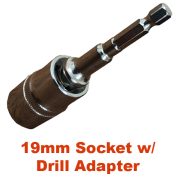 10 in stock (can be backordered)

Generation 2 Out Now – Free Shipping
Developed for Motorhomes & RV's that have European Awnings such as Fiamma & Thule.  However, they are suitable for any awning.
The auger shape and design of these bolts will anchor almost anything anywhere. From Tarps to Awnings an easy screw-in system that allows for easy insertion and removal of tent pegs. Each Ground Dog Peg is 250mm long, (generation 1 was 200mm long) made from high grade marine stainless steel and comes with a unique hook collar.
*New Hook Collar*
– The new Hook Collar was designed to make it even easier to attach our new Safety Springs.
– It still has the ability to be used as a locking nut if the ground is so hard that you can't drive the Ground Dog in all the way, if it's binding no need to force the Ground Dog in any further, simply wind the Hook Collar down to ground level.
– Have a look at the bottom of the Hook Collar, we built in a 19mm socket for use in an emergency!
The pegs also have a thicker tip which allows for two self-drilling notches, the thread has been stopped 20mm below the head to allow the new Hook Collar Locking Nut to freely rotate making it even easier to attach the Safety Springs.
This kit also contains 2 x Tie Down Straps with adjustable ratchets and 2 x new rugged safety springs and still give the straps plenty of give when tying down awnings.
Pack Contents:
* 6 x Stainless Steel Ground Dog Pegs
* 6 x Hook Collars
* 2 x Hi-Viz Tie Down Cam Buckle Straps
* 2 x Safety Springs (improved)
* 1 x 19mm socket with drill adapter
All in a convenient canvas zip bag.

Delivery: FREE DELIVERY (save $13.20)
Australia Wide, Next Day Despatch

Customer Reviews
Scroll to the bottom of the page to see what others are saying.

10 in stock (can be backordered)

Ground Dogs Review
Update: November 2020
Generation 2 of the Ground Dogs Pegs is now out.  New and improved with the below upgrades:
* Increased length to 250mm (previously 200m)
* New Hook Collar (replaces wing collar)
* 20mm clearance below the head (allows new hook collar to freely rotate)
* Thicker Tip with 2 self drilling notches
The Last Pegs You Ever Need – Now Even Better
One thing we have struggled with over the years is finding a tent peg for all occasions.  It doesn't matter if you prefer a caravan, motorhome, tent or camper trailer, at one stage you will need to use a tent peg to pin something down.  Whether it's for the tarp or to stabilise the awning, chances are, you will probably have struggled with the right tent peg for the job.  One that will cover all types of ground, from soft sand to ground as hard as concrete.
Many of ours have ended up bent from hammering, or slip out of the ground when you need them most, or end up rusting.  And, that is just trying to get them in, often times, getting a tent peg out of the ground is just as much of a challenge.
That is why we were so happy to have come across the Ground Dogs.   They are a simple and very effective screw-in tent peg that can be used to anchor anything almost anywhere.  And they are just as easy to get out of the ground as it is to put them in.  They also come with a complete tie down kit that will fit almost any caravan, motorhome or RV awning on the market.
Watch our Demo on how easy it is to set up your awning with the Ground Dogs Awning Kits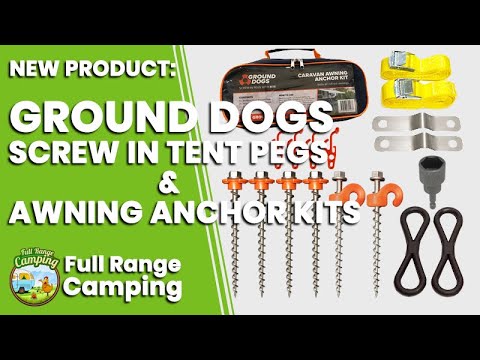 The Ground Dogs were developed by avid Aussie camper, Paul Pont.  While helping a friend take down a caravan annex that had been in place for 3 months, Paul became frustrated by how long it took him to get the old rusted tent pegs out of the ground.  It took him so long because they were rusted into the ground and then bent coming out to the point they could not be used again.  Thinking there must be a better way, Paul searched for an alternative to hammer in pegs.
Having tried a range of other screw in pegs I realised that none of them were durable enough or suited to a wide enough range of ground types. They would either wear out, strip the thread, snap the heads off, not penetrate the ground or pulled out too easily.  I started playing around with my own designs and realised the only way was to make a quality peg from quality materials
This is when he came up with Ground Dogs.  A purpose built tent peg for all occasions. It is a very simple design, and the concept is not new.  Essentially it is a very large stainless steel screw-in bolt that is just the right size, length, and shape that will drill in and out of almost any ground surface.
Features of the Ground Dogs
High-Grade Stainless Steel
The Ground Dogs are made from a high-quality marine grade stainless steel material ensuring they will not rust after a few uses in the ground.  They will not bend and are easy to get in and out.
Made from Marine Grade Stainless Steel
250mm Long
Generation 1 of the pegs were 200mm long.  Generation 2 of the pegs is now 250mm long.  The Ground Dogs are just the right length to suit all types of ground and means you don't need different length bolts for different applications.  = Less to Carry
250mm Long Shaft
19mm Head
The 19mm head on each of the Ground Dogs means you can use the same socket fitting to get them in and out.  In most cases, that is the same fitting required for adjustable stabilisers on caravan legs.
19mm Head  & 19mm Socket
Thread
Ground Dogs are tapered and have a special shape thread cut into the shaft, the fluting is wider and longer so they drill in and hold firmly in a wide range of soils.  They will hold fast and not pull out during strong and constant winds.  The thread is stopped 20mm from the head, to allow the new Hook Collar to move freely to place ropes or springs to it.
Wider & Longer Fluting on Thread
Adjustable Hook Collar Locking Nut
Generation 2 of the Ground Dogs introduces the new Hook Collar.  This new collar allows the safety spring, or your preferred rope or spring to attach to it securely.  This means if you can only get half the bolt into the ground, simply winding down the hook collar will make it just as effective, and means you don't have to have the bolt all the way in. (Note: In the Awning Anchor Kit, 4 of Generation 1 wing collars are included, to secure the awning plates to the legs of awnings).
The adjustable Hook Collar
Self Drilling Notches & 20mm Thread Clearance
As mentioned previously, Generation 2 now has a new thicker tip with 2 self drilling notches, making it easier the the peg to grip whilst drilling into the ground.  The Generation 2 peg now has a 20mm clearance from the head to the start of the thread, to allow free movement of the hook collar to rotate around the peg.  This makes it easer to position the hook collar for the safety springs (or spring/rope of your choice)
Self Drilling Notches & 20mm Head Clearance
Comparisons
Yep, there is always someone with a better idea or way of doing things, and during development of the Ground Dog, many of the alternatives were tried and tested.
Ground Dogs -vs- Tent Pegs
The traditional hammer-in tent pegs have been around forever and will work in quite a lot of cases, but let's face it, it can be hard work to hammer them in, and in some cases even harder to get them back out.  You also need a different size peg for different applications, meaning you need to carry around a whole lot more pegs.  Many of us end up with a collection of bent pieces of steel.   If the ground is extremely hard, you will be hard pressed to even get them in at all.  Watch the video below to see Paul & Judd in the Tent Peg Challenge.  Filmed at a recent Caravan show, the boys show how hard it is to hammer in a traditional tent peg in comparison to the Ground Dogs.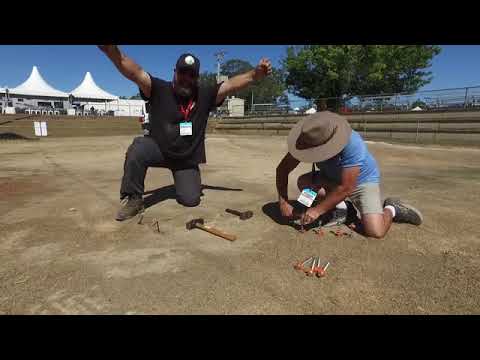 The Tent Peg Challenge
Ground Dog -vs- The Batten Screws
Batten Screws or even Coach Bolts are great, but they are designed for Wood.  The shaft is smaller in diameter and not tapered.  The threads are very narrow and although they come in varying lengths, they are just not quite long enough to get enough traction in the soil.  Yes, they will work some of the time in some types of ground.  Typical they are better in harder ground, but if the ground is too soft they will pull straight out.  Even if they held originally, after a bit of rain and the ground becoming softer they will more than likely lose their grip.  Also after a few uses, the thread was found to start wearing and they started to rust over time, meaning they have to be replaced constantly.
The Ground Dogs are designed for soil unlike Batten or Coach Screws
Ground Dog -vs- Plastic Screws
The plastic bolts work similar to the Ground Dogs, but after a few uses, the head will start to wear the point where they became unusable.  The thread is not as deeply cut, so this reduces their holding effect.   Depending on the hardness of the ground, on many occasions, they would just snap.
The Ground Dogs -vs- Plastic Bolts
Tried & Tested
An awning blowing in the wind can place extreme forces on the hold-down point, so you want something you know will hold to avoid awning damage.  The Ground Dogs have been tried and tested by Paul and also some extreme campers over the last 12 months.  There are also many other happy users who have purchased the Ground Dogs, here is what some of them had to say.
We bought the caravan awning anchor kit at our local market in Strathalbyn SA. I must admit I wasn't sure how the Ground Dogs were going to work. We are heading to Uluru for two weeks so thought we better take the van for a trial run; and what a perfect time to roll out the awning and test these guys out. WOW I'm amazed at how well they work! So easy to put in the ground and remove, and the strength of the ground dog is crazy. I'm totally onboard and will be showing and telling everyone. 10/10
Matt Crist – South Australia
These are the bee's knees. As a newbie, the awning anchor kit saved my bacon by holding down the awning of a rented camper during a huge storm at Dungog – could have been and expensive lesson for me. Thanks, fantastic product.
Rob Kerr – Sydney
Paul was also telling us about a recent show they went to,
 We were at the Toowoomba caravan show and got hit by a massive storm, the winds were up to 170km per hour and our gazebo stayed pinnied down.  In fact, the gazebo actually bent and the pegs still didn't let go.  There were tents either side of us with 20kg weights on their legs and they just went flying.
20kg Weights -vs- Ground Dogs 
Tie Down System
Tie Down Straps
The Ground Dogs can be used independently as an anchor point for any camping application that requires something to be tied down.   However, many campers with caravans or motorhomes will use them with awnings.  To assist with the easy setup of using the Ground Dogs with awnings, Paul has designed a simple and effective tie-down system that compliments the Ground Dogs and is very easy to fit.
The Ground Dogs Tie Down System
The Tie-Down straps will suit most awnings on the market and can be used with the arms either pined back onto the body of the van or for those that prefer the arms pinned vertically to the ground, there is also a special anchor plate that will slot straight into the bottom of the awning arm.
The tie-down straps can be fitted to the included Safety Springs that come with the straps.   It is highly recommended that any tie down system used for awnings has some form of giving in it to allow some movement to avoid damage to the awning mechanism.   The Ground Dogs system safety springs achieve this as they are made from hard wearing High Density Polyethylene (HDPE).  This means they will not perish and are very durable which will allow for adequate movement to your awning. It will eliminate the use of large springs which are bulky and can rust over time. Each strap also uses a ratchet system built in which makes for easy adjustment and tension.
The Tie Down Straps with Safety Springs & Ratchet
Awning Leg Anchor Plate
The full awning kit contains two specially designed plates that will fit most Dometic and Carefree awnings. It effectively acts as a clamp that will fit into the base of the awning arm. Also, it will hold it securely in place.   Generation 1 of the Ground Dog pegs with the wing collar is then used on either side to hold it firmly on the ground.  You can then attach the straps as shown above for added security.
The awning anchor plate secures awning arms vertically
WARNING:  While tying down of awnings in any conditions is highly recommended, this should just be as a precautionary measure.  It is highly advisable that in all cases where strong excessive winds prevail awnings should be wound in.
What We Thought
Very impressed.  Up until the Ground Dogs, we have just been using standard straight shaft tent pegs that we hammer in.  In most cases, they have been ok, but we have certainly gone through a few tent pegs.  The almost always bend and you can't use them again.  Most become rusty only after a few uses.  We also found we had to carry lots of them in various sizes. This is to suit all types of ground that we were on.
With the Ground Dogs, we found they were just so versatile for all conditions. They lasted without going blunt or rusty.  They were easy to use and held much better than the straight shaft pegs.
Another great benefit we found was getting the pegs out of the ground.  Previously, I had to get another tent peg or claw hammer out to try and pry out stubborn pegs. But found it easy with the Ground Dogs just to put the drill in reverse and out they come.
HOT TIPS:
Tip 1. If in Extremely hard ground, Unlike all other pegs, Ground Dogs do not need to be force all the way in for them to work, drill it in when it stops its binding, its doing it's job simply turn the locking nut & lock down to the ground level to anchor your Awning or gazebo!
Tip 2. Sometimes the ground can be like solid rock, don't worry here is an easy solution.  Make sure you carry a 12mm masonry drill bit, simply pre-drill the hole! Our Ground Dogs have a tapered shaft so even if you where in solid rock they will still lock in.
Notice something? The Ground Dogs have been made with security in mind, a left-hand thread!