You cannot add "Rain Saver Gutter - Leaf Guard" to the cart because the product is out of stock.
Caravan/Motorhome Awning Tie Down Clips
10 in stock (can be backordered)

These clips simply clip over your awning tube, when rolled out to help secure and tie-down your awning. This helps protect it against winds and gusty weather.
* 2 in each pack
* Fits most awnings
* Simple to install
* Can use your normal camping ropes
* Made from Stainless Steel
* Made in Australia

Australian Made
Invented in Brisbane, Made in Brisbane
Lifetime Warranty
If it breaks, it's replaced

Delivery: Australia Post
Flat Rate: $9.50 Aus wide
10 in stock (can be backordered)

First he created the Rain Saver Gutter (RSG), then Awning Hooks & Door Latch Extenders. Now, Mike, from RSG has done it again with these fantastic Caravan Awning Tie Down Clips.
As many will know, in most cases, simply securing your awning in the right fashion can prevent a whole lot of damage. The RSG Awning Tie Down Clips are specially made and curved to the correct shape of your awning which will allow you to quickly and easily tie down your awning.
A typical roll out awning
The Clips are proudly made here in Australia by Mike the genius behind RSG. Mike has been an avid camper for many years over this time developed many caravan and camping related products through trial and error. The clips he has come up with are very quick and easy to fit, but still effectively hold down your awning during light to gusty winds to avoid any damage to the awning material, arms or mechanisms.
In most cases, just securing your awning back onto the van, or just using pegs to hold it into the ground is just not enough. A strong wind can still pick it up at any time and send it flying. There have been many cases of caravans opening up like a tin of sardines following an unexpected strong gust of wind on an awning that was either not tied down, or tied down incorrectly.
An awning damaged by wind
Mike has developed his clips over time and found it imperative to their effectiveness that they have the correct shape and profile, allowing them to have the correct load points that will hold the awning down without damaging it. In many applications, either homemade or otherwise, over-tightening or pulling down your awning from the wrong angle can actually damage the awning.
If the pressure on the apex is too high, it is very easy to over tighten the awning, especially if using ratchet straps which many people do. Some can put up to half a tonne of load on them and distort their brackets.
A close up of the Clips in action
Using the Awning Clips will actually lock the drum of your awning in place and prevent over-tightening to occur. This also means you can still use the ratchet straps if you prefer as they will not over tension, but the use of a spring or something similar at the anchor point is still recommended to take out the shock.
The Awning Clips will work with any tie down system you choose to use
The hooks are also made here in Australia and manufactured using quality Stainless Steel.  There are two in a pack and they come with a lifetime warranty.  They are lightweight, durable and will not be effected by UV and perish over time like ropes or slings.
Lifetime Warranty & Made in Oz
Easy to fit – Installation
The Awning Clips are very easy to attach. The curved part of the clip fits over the awning and the small lug locks into the slotted sail track of the awning.  Your ropes, straps or tie downs just slip over the small curved end of the clip and are secured to whatever method of anchors you choose on the ground.
VIDEO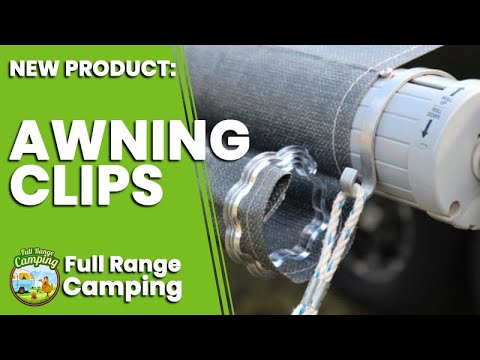 See how the awning clips are fitted
The Clips are designed to fit most rollout awnings including the following;
• Dometic 8300, 8500
• A&E
• Carefree
• Aussie Traveller
Benefits
One of the main benefits of the clips is that once you pull down on them they actually lock and support the drum mechanism in place and make the awning material taunt, preventing it from flapping in the breeze.
The awning clips actually lock the drum in place
The other benefit of locking the drum in place is that it prevents rattles, which in turn will reduce wear and tear on the knuckle of the unit and also on the main shaft and spring. Just using ropes, on the other hand, may still allow your drum to rattle and not offer maximum protection.
What we thought
There are definitely some primitive ways to tie down awning out there. From ropes to straps, and whilst most did the trick, we noticed that there was still a fair bit of free play in many of the ones we saw.
We could see there were many different angles being used and in one case we saw an awning that had been bent due to constant over-tightening with ratchet straps.
However with these clips, we found they were very easy to install. You didn't need to spend hours undoing and doing up things. They fit into place very easily, which is great, because in most cases, if something takes too long to do, most people just won't do it.  Most campers we showed loved them with the exception of a few die-hards that still feel that using a simple rope method will do the trick. To them, we leave off with the following thoughts.
Remember
If the wind is too strong, don't risk anything, Just take the time to wind your awning in.  Awnings are expensive to replace, so is the excess on your insurance.  For only $25, or less if you are a FRC Premium Club Members you can save a whole lot of pain.