Camping Kit Starter Kit-Ground Dog Anchors & Puppy Screw-In Pegs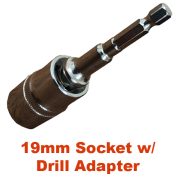 FRC has the perfect camping starter pack kit, with 4 x Ground Dog Screw-in pegs with hook collars, 4 x High Viz tie-down straps, 4 x safety springs, 1 x 19mm drill adaptor, and 4 x Ground Puppy Screw-in pegs to secure your groundsheet – you will have everything that you need to make your camping experience an enjoyable one.
Pack Contents:
* 4 x Stainless Steel Ground Dogs Pegs
* 4 x Hook Collars
* 4 x Aluminium Alloy Ground Puppy Pegs
* 4 x Thermopoast Rubber Caps
* 4 x Hi-Viz Tie Down Cam Buckle Straps
* 4 x Safety Springs (improved)
* 1 x 19mm socket with drill adapter
All in a convenient canvas zip bag.

Delivery: Next Day Despatch
$13.20 Flat Rate Australia Wide

Customer Reviews
Scroll to the bottom of the page to see what others are saying.