We have all heard the quote, "Necessity is the mother of Invention".  And Grahame Pilgrim, the inventor of the Reverse Mate probably had this in mind when he came up with the idea for this excellent product.  Grahame, a retired builder, whilst having to reverse his fifth wheeler into some pretty tight places, had a light bulb moment in developing a system that would help him reverse, quicker, faster and safer.
The Reverse Mate system was born!!
What is the Reverse Mate
Anyone with a Caravan, RV, boat or trailer, knows that sometimes, reversing their rigs into some pretty tight spaces where there isn't much wriggle room can be a very harrowing experience.  The better half hops out and tries to guide you in.  We don't need to elaborate on the tension these situations may present.  Grahame often found himself having to reverse his rig often by himself.  That is when he realised, a product could be made, that is portable, foldable and be positioned to assist in the reversing of these vehicles into those difficult spots.
(tap/click on image to expand)
The Reverse Mate, is a system that assists you in reversing your Caravan, RV, Boat or Trailer into position by placing highly visible guide poles at specific distances, determined by the dimensions of your unit, so you can easily and safely reverse the unit, easily and safely every time.
It has 2 separate, foldable Hi-Viz marker poles, that sit on a highly durable metal cross plate assembly.  Both units fold up into a neat, compact kit.  Both units have an attached tape measure, to assist you with measuring required distances. When you expand them, they act as marker points.  The marker poles are lightweight and strong aluminium, bright orange for high visibility with reflectorised stips to assist in visibility at night.  There is also an LED light on each pole that can be activated at the press of a button to assist in reversing at night.  The LED lights are powered by lithium batteries and easily replaceable.
From there, you simply do some quick calculations based upon the dimensions of your RV, Caravan, Boat or trailer.
(tap/click on image to expand)
Check Out The Instructional Video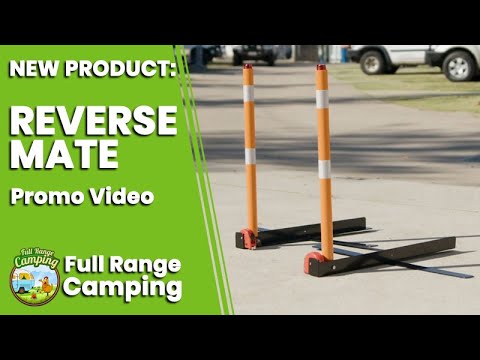 What We Thought of the Reverse Mate
Grahame has really nailed it with this great bit of kit.  You no longer need to be carrying witches hats with you.  The design of the product is really sturdy.  The kit has 2 pole makers.  Each pole marker folds and unfolds easily and quickly.  The design of the system has obviously had much thought placed into it, to ensure it takes up as little space as possible when folded.  It is plainly obvious, this is a quality product.
The LED lights on each pole marker are perfect for reversing in the dark, allowing for easy identification of the location of the poles and as you reverse, the reversing lights of your rig light of the 2 reflectorised strips on each pole allowing extremely easily visibility of each pole.  The base plates move smoothly and easily, and have a solid nylon spacer separating them, to ensure that each plate, when folded and unfolded do not scrape against each other.
It comes in a handy carry bag as well, that protects it from the elements when not in use, and allows for easy and simple storage.
If you have a caravan, motorhome, 5th wheeler, boat or trailer, this is one of those products that perfect for anytime you are reversing into those tight spots, and need to get it right first time, every time.
The Reverse Mate kit is available in the Full Range Camping Online Store and Premium Members receive a member discount on the kit.  Click on the banner below to buy now in the store.
Leave a Comment