It's Pineapple Festival time in Yeppoon QLD, so we are back in one of our favourite spots at the Poinciana Tourist Park right near the beach. As I pulled up to our allocated camp spot, we discover our neighbours are Trish and Dave, whom we met very briefly the last time we were in town five weeks ago.
The Pineapple Festival @ Yeppoon, Qld
Trish and Dave are native New Zealanders who after raising the kids, decided on a lifestyle change. Their initial destination was supposed to be Australia. But… as you do, they just took a small detour. Via Europe!
Before departing NZ they sold everything, the yacht, the house, everything! They left NZ with 23 kg of luggage each. Travelled and lived in Europe for two years in a motorhome, then, turned up in Australia, still with only 23kgs of luggage each. Now, 5 years down the track they still love the flexibility of life on the road as full-time global travellers.
Simmi meets Joey
I first met Trish and David and little Simmi, their Shitsu/Toy poodle dog when we came through five weeks ago. Shamefully for both of us as dog people, we always remember the dog first before the human! "Oh yes, that's right I recognised you from your dog!" it happens a lot! But, what caught my interest with Trish and David was their fun outlook on life.
Content and very giving.
They were now back in town for the Yeppoon Pineapple Festival, in which many of their family members will be participating. The excitement was building with costumes, dress rehearsals, and in particular, hair-do's, which Trish gave her full attention to, as she has had over 50 years' experience owning and running her own hairdressing salon, so she knows a thing or two about hair.
Trish and Dave are now full-time travellers, and Dave still travels overseas as a mechanical engineer from time to time, just because he loves it.
Trish & Dave tow a Jayco Silverline
While Dave is away sporadically, Trish keeps herself very busy perusing her passion for Art, Ukuleles, and of course Hairdressing.
Trish is forever a curious happy person, often found helping fellow campers with how to best care for their hair while they travel. Freely giving advice on the best styles to suit each face, it wasn't long before I soon found myself under the scissors getting a new hairdo. She embraces her skills in this area and loves to make people smile, shine, and feel their best.
She also loves to paint and her bubbly energetic personality shines through in her paintings. Just for fun, she paints small pictures and sells her paintings. She's particularly good with birds and does commissions as well.
Trish also loves the Ukulele and loves to share her skills by playing and teaching the Uke and Guitar around the campfire as they travel.
Trish says,
People often talk about selling up and going travelling but never do it.
but for Trish and Dave, it was different, it was a definite lifestyle choice. They made the choice and the decision to experience life their way.
Her attitude was,
What's the point of keeping all the stuff, let's make the change and sell it all, then we are free to go anywhere, anytime.
Dave adds,
We decided to be full time on the road and just take our time exploring, we are in no rush. We have everything we need with more than all the comforts and luxuries we might need
The concept of full-time travellers and nomadic lives is ancient, thousands of years old. However, it seems that on my travels, I am finding more people on the road making a break for it, discovering life their own way, and exploring new and exciting places, and experiencing new things.
Dave & Simmi unhitching for the night
For Trish and Dave, it is all about having the freedom to do as they please, be with their family wherever they may be. With their family spread out everywhere around the country, they travel at leisure, and in Dave's words they can "up sticks with minimal effort".
Hear more from Trish & Dave in this short 2-minute video.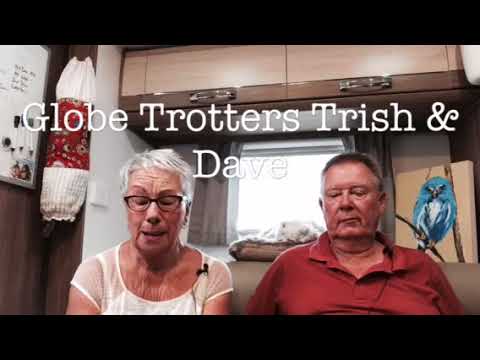 I finished our chat by asking Trish and Dave a list of common questions among nomads.
Favourite travel item?
Trish = Ukulele; Dave = Computer
Favourite Place?
Trish = Lake Argyle, WA; Dave = Esperance WA
Best Advice?
Trish = A healthy routine in the morning, get up walk the dog, go for a swim in the ocean and sitting in the sun, it's just life.;
Dave = Take your time, you have all the time in the world caravanning so just take your time.
Where to next?
Tasmania – Feb to March; Alaska – May to June
Favourite food to cook on the road?
Curry's, they are easy and you can have them over a few days and feed a mob if you need to.
And on that last note, I can testify to the fact we had dinner with them one night, and we had a lovely chickpea and pumpkin curry, very fresh and light. Super yummy!
I hope you enjoyed meeting Trish and Dave, we certainly did. We hope you meet them somewhere on your own journeys and get inspiration from them or their story.
Please feel free to share your comments below.
Leave a Comment