Look under nearly every caravan awning and you will be sure to find a wide variety of towels or clothing hanging from them. Caravan awnings make one of the best makeshift clotheslines for travelers. And whilst there are so many ways they can be made, some are better than others.  Many use rope, which gets tangled and sags over time. Unless you are really good with knots, it can fall off. We have found stainless steel cable to be one of the best things to use, however fitting them can be an issue, unless, you use a readymade version. This is what has led us to Caravan RV Cables.
Caravan RV Cables manufacture and supply one of the best awning clotheslines we have found in the market. They are simple and easy to install, but where we have found they excel is in the quality of the cable they use for all of their products.  They also manufacture a great range of security products for RV's, once again using the same high-quality cable and manufacturing process.
Read on to find out more about their products and what is on offer from Caravan RV Cables
Understanding Cable Quality
All cable used in the entire Caravan RV Cable range is the highest quality cable which will hold its shape so it does not need to be repeatedly tensioned, meaning it will not damage your awning.
Grades
All cables are 316 Marine Grade Stainless Steel. 316-grade steel is the most versatile on the market as it has the highest level of resistance to corrosion. Both 304 & 316 grades are commonly used to make cables, however, Marine Grade 316 contains Molybdenum, which in plain English is a hard silver-white metal element that toughens the steel and increases corrosion resistance. This offers the best protection from salt spray and is very unlikely to rust or stain.
Comparison of 304 to 316 stainless steel
Strength
The secret to the strength of the cable is in the construction. Stainless Steel cables have many grades and commonly referred to as 1 x 19 multi strand or 7 x 19 multi strand. The number represent the number of strands and cores used in the cable.
For e.g., 1 x 19-grade cable means there are 19 strands of wire and only 1 core used. This effectively means the wire is weaker and will be more prone to stretching and bending, thus losing its shape easily and requiring much more tension.
7 x 19, however, means there are actually 7 cores that make up the cable each with 19 strands. This makes it super strong, means it will not stretch, does not flex easily and is extremely hard to cut through.
Different strands and cores
Making the cables
Whilst the wire quality is of the highest grade, how it is fitted is what counts, as you have to ensure the wire will not slip out of its fittings once it is installed and tensioned. To ensure the strongest possible joins, all fittings in the Caravan RV Cable range are handmade and swaged in a hydraulic press. The press uses 70 tonnes of pressure ensuring professional fittings that will last a lifetime and which are backed by a full 10-year warranty.
The hydraulic press used to make the cables
The Product Range
Fixed Awning Clothes Line Kits
Designed to stay on permanently and for use on full-sized vans. These are best suited to full height Caravans, Motorhomes or RV's with at least 200 mm above the door to the bottom of the awning when closed. There must be 150 mm from top of the door to bottom of the awning when the awning is closed. The fixed-line is designed to be installed and left on the van while traveling.  The cable is stiff so it holds its shape and does not have to be tightened as much thus will not damage your awning.
Fixed & Removable versions available
All M4 Stainless Steel Bolts Nylock Nuts and washes required to install are supplied. Installation of the fixed-line is extremely easy, however, it is strongly advised not to use pop rivets during the installing process. All warranty is void if pop rivets are used in place of the nuts and bolts supplied.  The cables are made to fit all size awnings on the market from 12′ to 22′ foot long, however, custom length can be arranged by request.
NOTE: Measurements are taken from inside to inside of your awning arms.  See the diagram below. 
Removable Awning Clothes Line Kits
Designed for Pop Top Caravans or Camper Trailer awnings to allow access for the door to open when the awning is in the closed position. It can also be used on a full sized van as a second line or if you don't want to travel with it on. Designed to be easily removed to allow access to a pop-top van door when the awning is in the closed position. The removable line can remain on during travel or stay on permanently if you like. They come with both circle clips for traveling and R clips for easy removal.
Video 
Watch a short video on how to install the clotheslines and see the rest of the product range.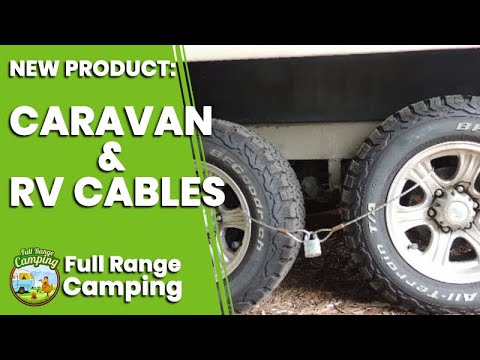 Trailer Mate Security Cable
This cable has been specifically designed to be able to lock your Trailer Mate to the A-Frame of your van. Can be in the down or used position or in the up or travel position. It allows you to lock up your Trailer Mate Front Lift and Jack and prevent it from being stolen. This cable is made from 4.0 mm Marine Grade G316 Stainless Steel 7 x 19 multi-stranded wire. That is a total of 133 strands of stainless steel wire, making it extra strong. These cables cannot be cut with side or bolts cutters. Special cutters are required and are not in the normal tool kit.  The cable is designed to be put through the handle sleeve and around the A-frame, whether it is in use or while traveling.
The Trailer Mate cable in place
General Security Cables
Designed to lock up all your camping gears, solar panels, pushbikes, kayaks, satellite dishes, fridges, tables, chairs and BBQ's. These cables come in a range of sizes, 5m, 10m, 15m & 20m so they can be used for any application around the RV or campsite.  The range of security cables uses the same 4.0mm 316 Stainless with 7 x 19 multi-strand wire. It gives superior strength and resistance from being cut with normal cutters.
Secure a whole range of items around the campsite
Single & Dual Wheel Security Cable
Ideal if you want to leave your caravan or boat trailer to go sightseeing or shop for more supplies. You can lock it up quickly and easily with this security cable. It not only stops your caravan or trailer from being towed away, it also stops your wheels from being stolen. Weighing less than 500gms, it is easier to install than a wheel clamp. It is a lot less cumbersome and takes up a lot less room when you are on the road.
This cable has been specially designed for wheel security and available in two styles-
Wheel Cables available in Bare Wire or PVC Coated 
Both versions are super strong, with the bare cable 6.5mm in diameter. Still using the 7 x 19 strand G316 Marine Stainless.
The PVC version is of 6.0mm diameter and uses 7 x 7 multi-strand cable. Coated in a thick PVC covering to offer scratch-free protection.
Both are available for single and dual axles.
The full range of Caravan RV Cables is available in the FRC Shop. It comes with extra savings for our Premium Club Members.
Leave a Comment