Hello and welcome to our campsite review for this month. This month we travel inland from the NSW coast towards Mudgee and check out the 'Camp at Old Bara' which offers true Bush Camping on a private Farm.
Location
Camp at Old Bara is within easy reach of Mudgee, Lue and Rylstone in NSW. Each of these towns having its own unique offerings, with Mudgee known for its colonial buildings, and both Lue and Rylstone ideal stops along the Bylong Valley Way and offering a selection of Cafes, Pubs, and attractions such as Lue Pottery and the Havilah Homestead.
Old Bara on the Map
The Grounds
Old Bara is located on a picturesque 1100-acre cattle property offering campers the choice of spacious paddocks over undulating terrain and a creek that runs through the majority of the property. With over 35 different areas to choose from you are assured of not being crowded in. Each camping area offers something unique and can accommodate a full range of camping styles.
Just one of the many campsites on offer
Facilities
The facilities are limited, but this is bush camping at its finest. There are loos but no showers on site so it is highly recommended to bring your own. There is plenty of creek water on tap at the loos which have been voted by campers as the best loos in Australia! Rainwater is available however, you are required to purchase it, and so it is highly recommended that you bring your own containers. Campfires are permitted unless the fire risk is high or a total ban. You are welcome to bring your own firewood or gather loose wood from around the property.
The best Loo's & Campfires welcome when permitted
The Accommodation
The sites at Old Bara cater for tents, campervans, camper trailers, motorhomes, and caravans. Guests are more than welcome to choose their own sites however, a maximum stay of 7 days applies and bookings are essential to ensure numbers are kept to a minimum and you are not overcrowded. Once booked, the site is yours so there will be no unexpected neighbors arriving during the night, providing you with not only privacy but also peace and quiet away from the hustle and bustle of everyday life.
A secluded site on one of the many waterways
Old Bara also has a four bedroom guesthouse that sleeps up to 10 people or perfect for 4 couples, and ideal if you don't want to rough it or if you wish to catch up with family and friends who may not have a caravan. The guesthouse is a charming 4 bedroom house, circa 1920s, which is also pet friendly. Adults love to stay there while the kids camp outside. It is fully self-catered with all the luxuries of home and more. Fine linen & towels are provided, 2.5 bathrooms, modern appliances, and a large outside entertainment area with a gas BBQ for your own use.
A complimentary bottle of Robert Stein Mudgee wine is included on arrival at the cottage
Pet Friendly
Yes, Camp at Old Bara is very pet friendly, but having farm animals, common sense should prevail and all pets are asked to be kept under control.
Pets OK but cattle do roam the property
The Owners
Old Bara is a family run business owned by Richard and Sally Nagel. Richard, who grew up in outback Queensland is no stranger to the farming life, whilst Sally, born in Canada had an English upbringing. The family moved to the Mudgee district 26 years ago and has farmed Old Bara since 2006. Apart from enjoying having campers on their property, Richard is a skilled carpenter and sculptor with a passion for creating garden sculptures made from recycled metal, while Sally has a love for horses and is a passionate advocate for Careflight.
The Nagel Family
Video Preview
Watch a short video showcasing Camp at Old Bara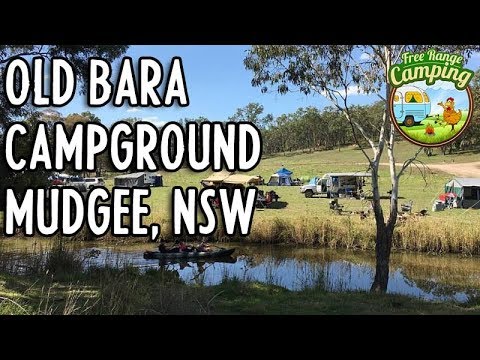 What we think
We have chosen Old Bara as the Campsite of the Month due to its unique offering. We especially love that they limit the numbers to ensure peaceful spacious camping. To prevent the hustle and bustle of the crowds. It is also a great opportunity to experience country life on a large expanse of cattle country.
Another great spot to camp
Things to Do in the Area
Old Bara is a destination in itself with plenty to do without leaving the property. On hot days, you can cool off with a swim in the creek or catch some yabbies to cook on the campfire. Kids are more than welcome and the property and creek are ideal for kayaking or small boats.
Ideal for kayaks & canoes
You can enjoy a walk or bike ride on one of the several tracks around the property. There are photo opportunities galore of the wildlife, beautiful bush, sunsets, and crystal clear starry night skies. The 'Picnic Spot', situated at the top of a hill in picnic paddock offers exquisite views of the property. the view is for those wanting to sit back enjoying a glass of wine and watch the sunset.
A perfect spot for stargazing
If you do wish to explore further afield, Old Bara is located in the perfect location. Check out the surrounding towns of Mudgee 32km west, Lue 26km south, and Rylstone 47km south. The Louee Enduro and Motocross Complex are also a short 15 mins drive away. The Western Plains Zoo is only 2 hours drive away in Dubbo.
For our detailed directory listing for Camp at Old Bara you can follow the link here, or use the FRC App and search for the Map Marker in the Mudgee area.
Leave a Comment